SKU: DC2W
Regular price
$389.00 AUD
Regular price
$459.00 AUD
Sale price
$389.00 AUD
Unit price
per
Sale
Coming Soon!
Shipping

We ship to all areas of Australia with TNT Road Express or Australia Post, and all items are fully insured. Shipping is calculated through TNT Australia or Australia Post, and although we take all possible precautions to provide accurate shipping costs, additional charges may apply for regional orders. If you're unsure, please contact us for a freight quote prior to placing your order.
View full details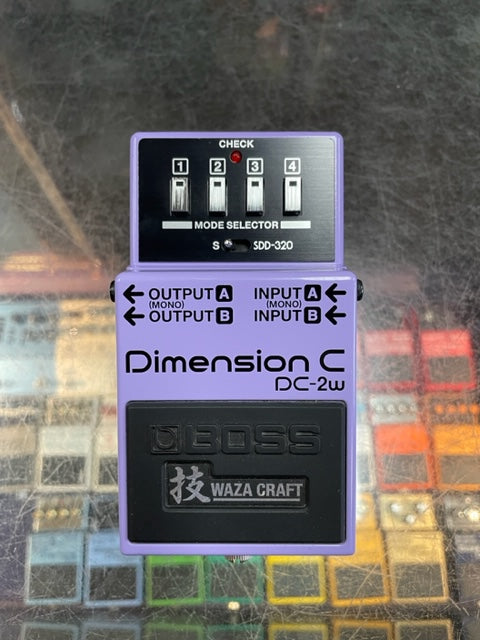 The genuine BOSS and Roland Dimension effect is back, and it's now more versatile than ever! Designed in the premium Waza Craft analog tradition, the DC-2W offers not just a perfect sonic recreation of the original DC-2 Dimension C pedal, but also the legendary SDD-320 Dimension D studio rack effect it was based on. The DC-2W features the same intuitive four-button preset interface as the original '80s-era effects, now evolved with electronic switching that unlocks a multitude of sonic variations not available on the vintage units.

Highly sought-after by musicians and audio engineers, the Dimension's unique spatial processing magically enhances the width and depth of any sound, from electric and acoustic guitars to keyboards, vocals, and other sources. Built from the original circuit designs and updated with modern refinements, the DC-2W is the only pedal available that delivers the classic Dimension experience with complete sonic authenticity.

The vintage Dimension effect is famous for its innovative 3D spatial processing that just makes everything sound a little better. It's often mistakenly called a chorus effect, but it's actually not. Though time-based like a chorus, the Dimension's circuit is quite unique and sophisticated, subtly enhancing the width and depth of the source audio without any prominent modulated movement. The resulting sound is more open and natural, gently enriching any instrument or mix without making it sound overly processed.

In the Waza Craft tradition, the DC-2W delivers vintage analog tones with modern design refinements for enhanced performance and versatility. Along with the new electronic mode switches, the pedal features a newly designed internal bypass circuit that greatly improves on that found in the original DC-2. In addition, versatile I/O enables the pedal to blend in with any mono or stereo rig, from regular guitar setups to audio interfaces and studio mixing consoles. And like all Waza Craft pedal models, the DC-2W includes a premium buffer circuit for ultra-transparent tone when the pedal is switched off.

Introduced in 1985, the DC-2 Dimension C pedal brought the Dimension D's distinctive spatial effect to the BOSS compact pedal format. While the Dimension D was designed as a studio effect that supported either mono or stereo input sources, the DC-2 was specifically created for mono sources like guitar, and features a modified circuit that produces a Dimension effect with a slightly different tonal flavor. When S (Standard) mode is selected, the DC-2W delivers the exact sound of the original DC-2 pedal. Despite players trying, pressing multiple buttons on the DC-2 didn't actually produce any sound variations. Similar to SDD-320 mode, pressing two buttons at once in the DC-2W's S mode provides access to six different "in-between" sounds not available on the original DC-2.

Just like the original Dimension effects, the DC-2W offers a simple and direct interface with four preset switches that provide sonic variations with increasing width and depth. While the originals had mechanical switches, the DC-2W is equipped with modern electronic switches and status LEDs for more solid performance. The new switches also allow you to press two at once to access a variety of additional sounds. Across the DC-2W's two effect modes (S and SDD-320), 20 different Dimension variations are possible with just four switches.

Since the beginning, the engineers at BOSS have been committed to achieving the finest guitar tones using any technology necessary, from old-school analog circuits to high-tech DSP. This enthusiastic spirit continues on with the Waza Craft series, which brings you exceptional tone and touch response through carefully selected analog components, refined circuitry, and meticulous attention to detail. In Japan, "Waza" is the term for art and technique, and these special edition pedals proudly carry the Waza symbol to represent the pinnacle of BOSS design and craftsmanship.

Features

Premium Waza Craft pedal with all-analog audio circuitry
Standard mode provides the sound of the original DC-2 Dimension C pedal
SDD-320 mode authentically reproduces the vintage Roland SDD-320 Dimension D, a legendary studio rack effect heard on countless hit records
Iconic four-button preset interface, updated with reliable electronic switches and LED status indicators
Four main sounds in each mode, plus six variations by pressing two switches together (20 total sounds available)
Premium buffer and enhanced bypass circuitry
Versatile I/O for integrating with any mono or stereo application, from guitar and bass pedalboards to keyboards and studio mixing
Made in Japan
Please note this is an online webstore only, and should be treated as such. Stock availability/levels for our webstore and retail store may vary. If an item is temporarily out of stock, you will be contacted to discuss options.