SKU: FFCHBSN2
Regular price
$499.00 AUD
Regular price
Sale price
$499.00 AUD
Unit price
per
Sale
Coming Soon!
Shipping

We ship to all areas of Australia with TNT Road Express or Australia Post, and all items are fully insured. Shipping is calculated through TNT Australia or Australia Post, and although we take all possible precautions to provide accurate shipping costs, additional charges may apply for regional orders. If you're unsure, please contact us for a freight quote prior to placing your order.
View full details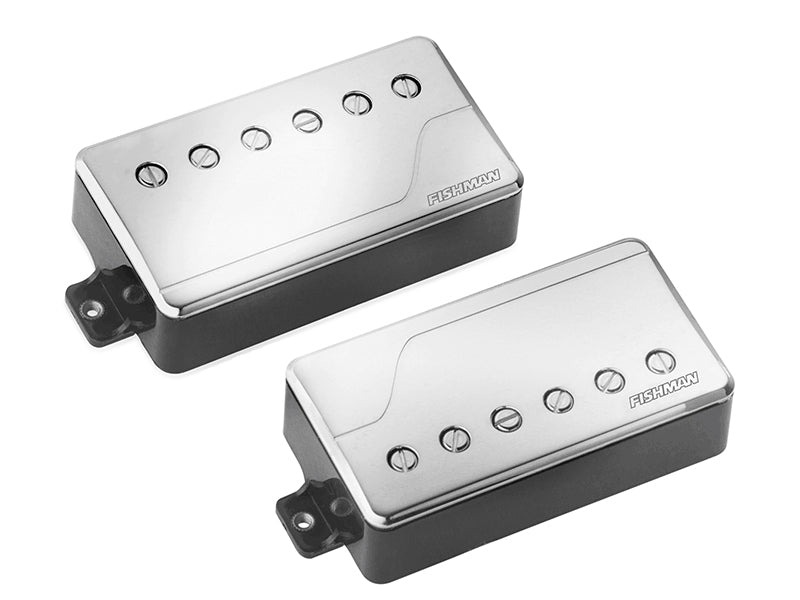 Fishman Fluence Classic Humbucker Set - Nickel
Fluence Classic Humbucker pickups now incorporate a new 3rd voice – Single Coil. Wound humbuckers, when "split" to create a single coil sound, can be weak and unconvincing. The new Voice 3 is a truly authentic single coil tone that only Fluence technology can deliver.
CLASSIC HUMBUCKER NECK VOICINGS:
Voice 1 (Vintage PAF): The ideal, elusive vintage PAF neck humbucker tone with the dynamics and output level you want.
Voice 2 (Clear, airy chime): A Fluence-exclusive neck tone, with unreal highs, vocal midrange, and tight lows.
Voice 3 (Clear, Vintage Single Coil): Vintage tone, clear and present, seamlessly fused with a sweet warmth.
CLASSIC HUMBUCKER BRIDGE VOICINGS:
Voice 1 (Vintage PAF): The ideal, calibrated vintage PAF bridge humbucker tone at the perfect output level.
Voice 2 (Classic Hot Rod): The quintessential hot rodded bridge humbucker tone without all the baggage.
Voice 3 (Slightly Overwound Single Coil): Muscular, beefy, "overwound" tone without losing the highs or the "strattiness" we all love.
FLUENCE CLASSIC HUMBUCKER PICKUPS:
Are Multi-Voice. Set and forget, or wire-up to toggle between musically complimentary voices.
Drop right in and replace standard humbucker pickups.
Are rechargeable on your guitar. Optional lithium-ion battery pack offers weeks, not hours, of playing time.
SPECIFICATIONS
NECK PICKUP
BRIDGE PICKUP

PEAK FRQUENCY

Voice 1: 2.6 kHz, Voice 2: 4.5 kHz, 350 Hz, Voice 3: 5 kHz
Voice 1: 2.25 kHz, Voice 2: 1.6 kHz, Voice 3: 4 kHz

MAGNETIC MATERIAL

Alnico V
Alnico V

MAGNETIC CIRCUIT

Bar magnet with poles
Bar magnet with poles

POLE SPACING

49 mm
52.6 mm

OUTPUT IMPEDANCE

2 k
2 k

CURRENT DRAW

2.5 mA
2.5 mA

BATTERY

9-Volt or optional rechargeable battery pack
9-Volt or optional rechargeable battery pack

Image is for illustrative purposes only.
Please note this is an online webstore only, and should be treated as such. Stock availability/levels for our webstore and retail store may vary. If an item is temporarily out of stock, you will be contacted to discuss options.