SKU: TR10090
Regular price
$249.00 AUD
Regular price
$289.00 AUD
Sale price
$249.00 AUD
Unit price
per
Sale
Coming Soon!
Shipping

We ship to all areas of Australia with TNT Road Express or Australia Post, and all items are fully insured. Shipping is calculated through TNT Australia or Australia Post, and although we take all possible precautions to provide accurate shipping costs, additional charges may apply for regional orders. If you're unsure, please contact us for a freight quote prior to placing your order.
View full details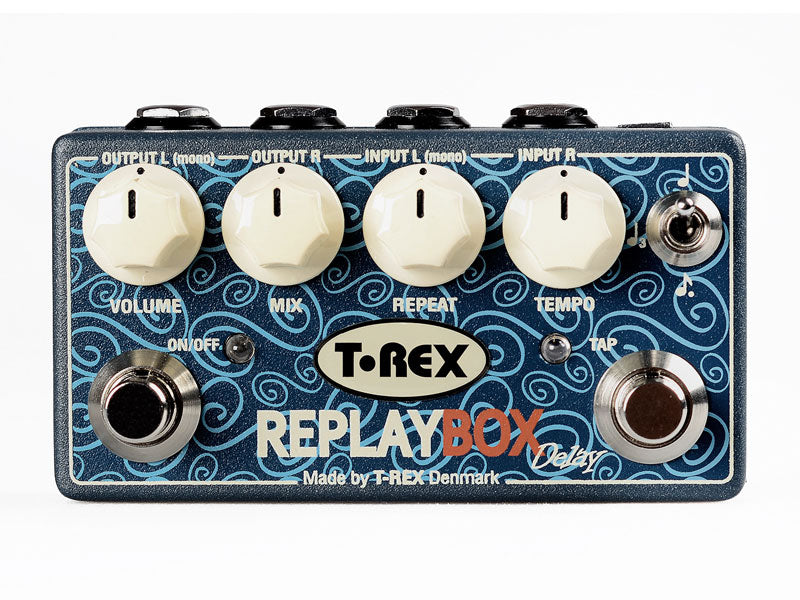 T-Rex Replay Box Delay
We have had many requests for a more straight sounding delay pedal that is clearer and more true to the incoming guitar signal. By using new hardware, we not only created a very studio-like sounding delay, but we were able to increase the delay time to a maximum of 3 seconds. It sounds more modern and it doesn´t distort or warble – it merely sends out what you put in, only a little later and in a very pleasing way. Just like all our other delays, the dry signal is kept analog, so there is no latency or coloring from the converters to the dry signal.
Tap & Divide ...
Tap Tempo works great for keeping the delay time in sync with the guy banging on the skins, but there is something to be said about subdivisions. A straight up quarter note delay works great for most sounds, but the rhythmic pattern that emerges from a perfect dotted eighth delay is quite nice and triplets can be just the ticket in swing or more rootsy types of music, so we put in all three options. You only have to tap the footswitch to the beat of the song, and the Replay Box will do the rest of the work for you by adjusting the delay time to 1/1, 2/3 or 3/4 of your foot taps, depending on the switch setting. Try tapping a perfect triplet with your foot while you play … you will know why the switch comes in handy!
True Stereo in a Compact Box
The Replay Box features stereo in- and outputs, so you get the most out of those stereo modulation boxes you sometimes step on. Not only is the dry stereo image kept intact, but the DSP processes each side individually, according to the knobs settings. It´s sort of like having two identical delay pedals for each side. We are proud to offer all of this in a very small package. It took Sebastian some time to cram it all in there, but we understand the need for more features in smaller boxes. Besides, the "betcha can´t do this"-game is still a funny game to play, especially when you work with Sebastian. The Replay Box delay is simple to use, it´s packed with the most sought-after features and the sound is solid as a rock. And just for the record, there´s no way you´re getting it in a smaller box than this.
True stereo delay.
Features:
Analog dry signal
Tap tempo footswitch
Pristine and clear sound
Up to 3 seconds of delay
Incredibly small form factor
Runs on standard 9VDC power
True stereo operation (L/R inputs and outputs)
Subdivision switch - allows choice of quarter, triplets or the sought-after dotted eighth delay
Tech Specs:
Input impedance @ 1KHz: Higher than 1M Ohm
Output impedance @ 1KHz: Lower than 1K Ohm
Power supply: 9V DC (T-Rex FuelTank)
Minimum power supply voltage: 8,5V DC
Maximum power supply voltage: 12,5V DC
Current draw @ 9V DC: 110 mA
Maximum input signal V p-p: 3V p-p
External connectors: input jack (L), input jack (R), output jack (L), output jack (R), 9V DC jack
Controls: on/off switch, tap, volume, mix, repeat, tempo, mode
Image is for illustrative purposes only.
Please note this is an online webstore only, and should be treated as such. Stock availability/levels for our webstore and retail store may vary. If an item is temporarily out of stock, you will be contacted to discuss options.