SKU: 455064
Regular price
$179.00 AUD
Regular price
Sale price
$179.00 AUD
Unit price
per
Sale
Coming Soon!
Shipping

We ship to all areas of Australia with TNT Road Express or Australia Post, and all items are fully insured. Shipping is calculated through TNT Australia or Australia Post, and although we take all possible precautions to provide accurate shipping costs, additional charges may apply for regional orders. If you're unsure, please contact us for a freight quote prior to placing your order.
View full details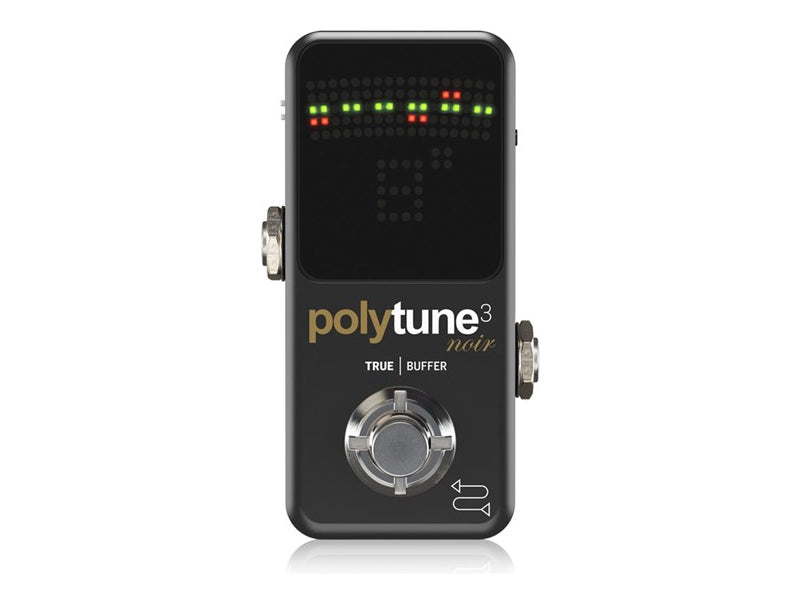 TC Electronic Polytune 3 Mini
Carrying on the POLYTUNE legacy, POLYTUNE 3 MINI packs an unprecedented amount of tuning power into a tiny footprint without sacrificing essential features, such as always-on mode and our audiophile BONAFIDE BUFFER circuit for uncompromised tones – making it ideal for fully-loaded pedal boards where every inch counts!

Tiny Tone Guardian
Is your signal in desperate need of a strong buffer circuit to save your tonal integrity from a platoon of hungry true bypass pedals? POLYTUNE 3 MINI has you covered for any setup, and then some. Thanks to its built-in BONAFIDE BUFFER, which ensures zero signal degradation and an extremely high signal to noise ratio, POLYTUNE 3 MINI is the ultimate 2-for-1 pocket tool for pedalboards – keeping your tone robust and your pitch in place. Switch off the buffer, and you're instantly back in true-bypass mode.
No Rest for the Wickedly Out of Tune
When you're on stage rocking out, there's just no time to stop and tune up, even if you've gone a bit overboard with the whammy bar. With POLYTUNE 3 MINI's always-on mode, you never have to miss a beat. Additionally, there are 2 very practical DIP switches mounted on the side of the pedal that make it easy to go from buffered bypass to true bypass, and from standard mode to always-on.
LED the Sun Shine
Whether you're performing in direct sunlight, under a massive light rig or just planning to be the first live artist on the surface of the sun, the bright display on POLYTUNE 3 remains clear and readable. And with 109 powerful LED's running at full blast, you won't have to search for the display – it will find you!



Please note this is an online webstore only, and should be treated as such. Stock availability/levels for our webstore and retail store may vary. If an item is temporarily out of stock, you will be contacted to discuss options.