SKU: TWO-CABM
Regular price
$469.00 AUD
Regular price
$549.00 AUD
Sale price
$469.00 AUD
Unit price
per
Sale
Coming Soon!
Shipping

We ship to all areas of Australia with TNT Road Express or Australia Post, and all items are fully insured. Shipping is calculated through TNT Australia or Australia Post, and although we take all possible precautions to provide accurate shipping costs, additional charges may apply for regional orders. If you're unsure, please contact us for a freight quote prior to placing your order.
View full details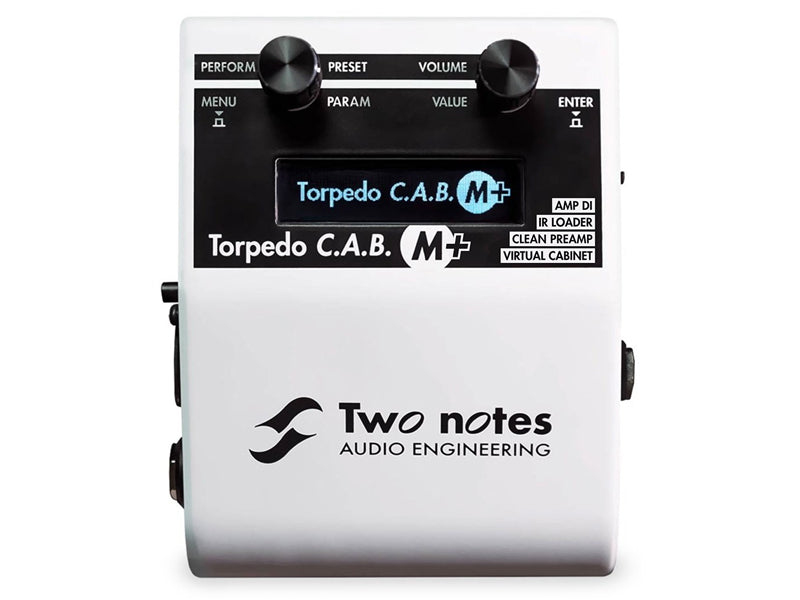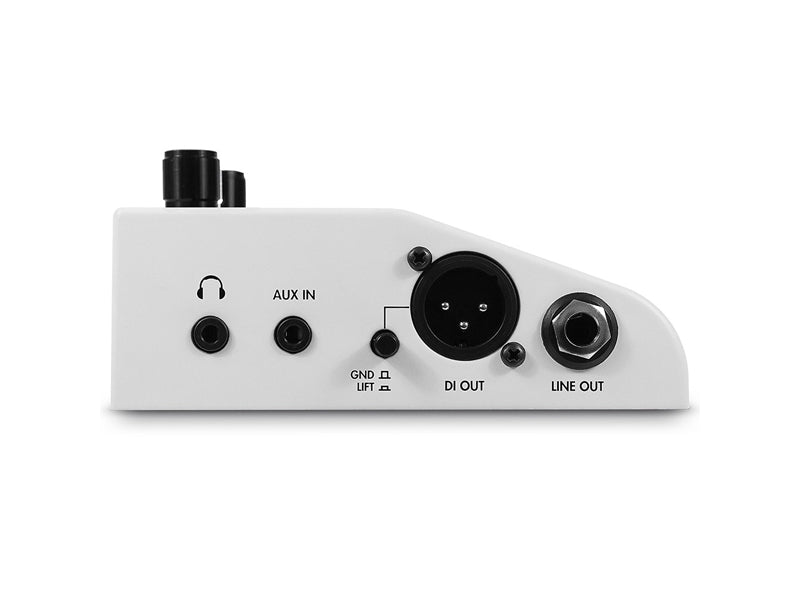 Two Notes C.A.B. M+ Amp DI IR Loader & Virtual Cabinet
Torpedo C.A.B. M+ is a powerful pedal platform that provides ideal foundations for creating pristine tones without the need for an amp or cabinet. CAB M+ provides both guitar and bass players studio-quality amps with 32 cabinets (including official Celestion, Victory Amps, REVV, and ENGL DynIR virtual cabinets), 12 room emulations, and 8 mics per cab. Built on the success of the acclaimed Torpedo C.A.B. M, CAB M+ comes with a stunningly clean preamplifier (inspired by the original '74 Silverface B'man), sophisticated power amp, enhancer, tuner, various reverb effects, plus noise gate.

Conveniently, the preamp and power amp sections can be independently engaged. Therefore, you can also place the CAB M+ between your tube amp and a reactive load box to create a 'silent stage' or use the Torpedo C.A.B. M+ with your favourite preamp pedal. This flexibility coupled with DynIR technology and comprehensive I/O (inc. XLR DI out, headphones, aux in), makes Torpedo C.A.B. M+ your secret weapon - no matter how your rig evolves at home, on stage or in the studio.

Fed up with lifting heavy cabinets? Suffering inconsistent sound from room to room? Go direct to the PA or audio interface with studio grade virtual cabinet simulations. Why settle for static IRs when Dynamic IRs (DynIR) offer incredible tone tweaking options? Place legendary microphones both in front and behind the cabinet and move the mics on or off axis in real-time.

Shape your tone directly on the hardware or control your CAB M+ via your computer with Torpedo Remote USB in a home / studio environment. For convenient tone tweaking on stage, you can also pair your Torpedo hardware with your phone (or tablet) via Wireless Torpedo Remote (iOS / Android). No other system offers such universal control of the miking chain and with dual miking available on every DynIR cabinet, you may never use a real mic again.

Not only is the Torpedo C.A.B. M+ your perfect pedal platform, but you can also place the compact and robust hardware between your favourite amp and speaker. Let DynIR cabinets deliver your tone directly, and flawlessly, to your DAW or FOH. Moreover, if you are a tube amp lover and connect the speaker out of the CAB M+ to a reactive load box (such as the Torpedo Captor 4 / 8 / 16), you can create the perfect 'silent stage' with your tube amp pushed to the sweet spot.

With 32 Virtual Cabinets preloaded (inc. official DynIR cabinets from Celestion™, Victory Amplification™, REVV™ and ENGL™) and over 400 available to audition via the Two notes online library (including official Mesa/Boogie™), guitar and bass players no longer need to compromise with just a handful of static IRs embedded within their cab sim / IR loader pedal. Torpedo Remote USB enables efficient file management of your virtual cabinet library so you can focus on the important stuff - playing and tone.

If you have some regular (static) IRs in your library that are firm favourites and you want them 'on' your pedal board, CAB M+ can store up to 512 IRs in the internal memory, and thousands on the (included) memory card. You can also effortlessly blend two static IRs to help define your tone. The powerful onboard DSP handles all processing for both Two notes Virtual Cabinets (DynIR) and static IRs with minimum latency. Even with the maximum IR length (200ms), your tone will hit you without any audible delay.

Features:
The ultimate clean pedal platform
Preamp inspired by an all original '74 Silverface B'man
Comprehensive silent stage solution
Amp DI / XLR DI Output
Torpedo IR-based technology (DynIR) creating dual-miked Virtual Cabinets
Loaded with 32 Virtual Cabinets, 99 preset locations
High visibility OLED screen
Rugged, metal case: road ready and portable
Choose from 8 microphones per cabinet and 12 room simulations
EQ: 5 band semi-parametric and a low-cut filter
USB Torpedo Remote (Windows and macOS) connectivity
Wireless (Phone / Tablet) Torpedo Remote connectivity (Android and iOS)
INST/AMP/LINE input: 1/4″ jack balanced (TRS)
Speaker output: 1/4″ jack unbalanced (TS)
Headphone output: 1/8″ jack balanced (TRS)
DI XLR Balanced output
Line Out: 1/4″ jack balanced (TRS)
Aux input: 1/8" jack balanced (TRS)
Mains power adapter: 100-240v AC / Output: 12V DC, 1A (supplied)
Image is for illustrative purposes only.
Please note this is an online webstore only, and should be treated as such. Stock availability/levels for our webstore and retail store may vary. If an item is temporarily out of stock, you will be contacted to discuss options.